What is (Secure) Online Reputation Management?
INTRODUCTION:-
Online presence is a big part of everyone, either a business or a political party or even a street side shop and a single person.
We are carrying this big part with us on a daily basis and that is why it is important that we take care of it too along with the other aspects of our ongoing lives.
Today, 90% of the customers read online ratings and reviews before engaging with a brand's product or service.
Your positive Online Reputation is directly proportional to your Business and Personal Growth. And even a single negative review can swing the consumer's mood.
And, Online Reputation Management(ORM) is the alternative way for monitoring and improving how your business is viewed online.
HOW CAN YOU CHECK YOUR ONLINE REPUTATION?
Google Search
Google your business, product and people name, and look at these things-
1. Are you in the first positive listings?(SEO)
2. Are the links you are seeing positive(relevant to your product or service)?
Check your Google My Business Listing
1. Does one exist?
2. Is the information there accurate?
Social Platform
Check your brand's social channels
How many followers do your channels have on each social media platform?
How frequently your posts get likes by your brand users?
How frequently do you post on social media?
How responsibly do you provide responses to the comments on your posts?
How responsibly do you provide responses to the messages received by you from your brand users?
What average response time does your team take to reach the customers again?
Does the content of your posts align with the brand story?
Check what's been said about your brand on social platforms
Search your hashtags, location and brand name.
Are people talking about you and your business? Are they talking positive or negative?
In case of negative comments, are others hopping on board or do your social fans come to your defense?(Most Crucial)
Reviews
Check out your Google Do you have any? How many stars do you have? Are you responding to reviews? Do you have a good strategy for doing so?
Check out your Facebook Are customers leaving reviews on your facebook page? Is your team responding to them?
Checkout other review sites like Angie's list, Yelp etc.
Potential Customer
The percentage of people who view certain pages on your
The percentage of people who click a link and then take an action on your website or
How engaging your social media posts
The percentage of people who view certain pages on your
The number of views on a page of your website and the amount of time people spend on that
The percentage of people who revisit your brand
An increase in engagement with a speci1c
WHY IS IT IMPORTANT FOR YOUR BUSINESS?
EIects the decision making of consumer regarding your brand
Negative and positive reviews de1ne the eye through which the potential and existing short term consumer looks at your product or service and aIects their decision to engage with you.
Get proper feedback via consumers
ORM helps you maintain proper feedback from your consumers and hence helps in the betterment of the product or service or resolving the consumer problems as soon as possible.
Build future strategies on their basis
Having a regular check on the consumer's engagement trend on social media and other platforms helps you to provide a proper direction to your business. It tells you more about the tastes and trends that your potential and existing customers follow and then helps you to grow your business on those lines.
Negative comments can not be undone, it's better to manage them
Any negative comment or review once done by the user can not be deleted or erased. It can only be done by the same user only. So, it's better to have an ORM strategy in place to tackle such situations. Remember, it takes only one little negative comment to take down a glorious reputation.
Protects business reputation
The timely resolution of user's problems helps to maintain the business reputation. ORM helps keeping a close eye on the negative reviews and comments and techniques to resolve the same helps the businesses not to lose their hard earned goodwill like that only.
THE SHORT STORY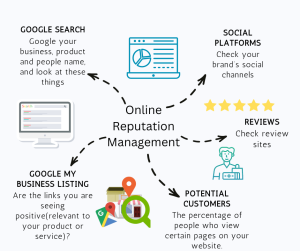 Every story nowadays is a social story or should we say a Social Media Story. Almost everyone has access to know you better. And in this big world of social media, people share. And the negative takes no time to reach the masses, even when it's a fake negative.
And, here comes ORM to your rescue. Use ORM and delete or remove negative link for achieving a higher growth of your business and personal lives without any fake or negative barriers.