Cobrapost: For Rs 92,000 you can destroy reputations on FB, Twitter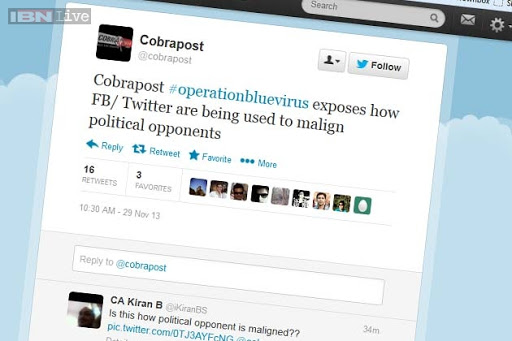 Undercover website Cobrapost has claimed to expose some of the IT firms for abusing popular social networking platforms  Facebook, Twitter and YouTube to help political leaders increase their popularity with forged 'likes', showing large number of fake followers, and running crusades against opponents and even producing terror amongst minority communities
According to Editor, Aniruddha Bahal of Cobrapost, their website conducted a sting operation termed as 'Operation Blue Virus', exposing approximately two dozen IT companies which are involved in the shady business practices of online reputation management.
Amongst various other deceitful things, the IT companies offer their clienteles, including politicians, false followers on Facebook and Twitter, and organize negative marketing campaign against their rivals or other parties involved with opposition party like a corporate house.
During the string operation, Associate Editor of Cobrapost, Syed Masroor Hasan, pretended to be a front man for a fabricated 'politician' of an opposition party, and interacted with more than two dozen IT firms regarding hiring their services for two main purposes. First task was to boost image of the 'Netaji' (politician) on social media platforms before the assembly elections and second task involved destroying the image of rival party candidates with negative publicity.
---
According to Bahal, the companies offered the following services:
Generate a large number of fake followers on the Facebook page of Netaji, or purchasing 'likes' from the community of netizens or internet users, creating a big fan following on Twitter by buying an assortment of fake followers and erase any negative comments that may appear.
Organize negative publicity campaigns against the rival candidates of Netaji's and will do whatever is necessary to destroy the reputation of a rival party in the public.
Spread negative content online about opponents, from the countries like USA or Korea in order to avoid the detection of the origin of the content.
Using assembled PCs for negative campaigning against the rival candidates, and then destroying them afterward.
Use proxy codes and changing them in almost every hour to avoid detection of location.
Create fake with Muslim names, to influence the online Muslim communities in favor of Netaji.
Create promotional videos to make them go viral on popular video sharing platforms like YouTube.
They would hack into the other people's computers to use their IP address for posting offensive content about opponents of Netaji.
Use Internet-based messaging software to evade TRAI guidelines on bulk messaging by using short ciphers instead of real phone numbers.
Accept only cash payment, to make sure there is no proof of transaction between them and their clienteles.
The portal also claimed that some of the professionals were not above the idea of using bombs to scare people or spread false reports of riot situation, pushing Muslim voters to stay in their houses on the day of voting, as a result leaving plentiful choices for sham voting.
---
Legal Implications of The Actions exposed by Cobrapost
Several of the practices given above are recognized as crime under the territory of existing laws such as the Indian Penal Code, the Information Technology Act 2000, the Income Tax Act 1961, and the Representation of the People Act 1951.
For example, publishing negative or disparaging comments is a crime under Offence of defamation, which is punishable under the IPC Section 499; using sham IDs to get an Internet connection or new domain name comes under cheating and forgery, which is punishable under different sections like 419, 420, and 465 under Indian Penal Code.
Sending messages or information, which is false, and cause aggravation, embarrassment, offense, and damage is punishable under Section 66A of the IT Act 2000. Other than that, hacking is punishable under Section 66 of the IT Act. Deeds, like detonating a bomb, or spreading false report of such menace, is punishable under Section 125 of the RPA 1951. Cash transactions of high amount are also looked upon as an endeavor to evade taxes and are punishable under Section 276 of the IT Act.
Many activists are coming forward, showing their discontent against the unethical practices of reputation management companies. Social activist Tehseen Poonawalla, who has filed a legal complaint against Twitter, has filed an appeal in a court regarding the establishment of rules and regulations that would govern the activities on social media platforms.